Wentorf/ Hamburg, 5. February 2020 – shipznet, well-known for many years as the mobile broadband communication solution for the maritime industry, unites advantages of managed service and operator independency.
The new shipznet MC 300 solution makes it possible for the first time to use own SIM cards and additionally get a prepaid service independently and extremely flexible when required, without a long-term contract or unpredictable costs, absolutely demand-oriented. shipznet MC 300 perfectly extends satellite connectivity as an on-demand back-up in case of a failure, blockage or country-wide restrictions.
shipznet's new service offers customers like shipping companies or mega yachts the greatest possible flexibility in ship to shore communication. The MC 300 hardware (radome antenna and router) works up to 60km off shore, allows speeds up to 300 Mbit/sec and has 6 SIM slots, that can be used with own SIM cards. In case new or temporary routes occur unexpectedly to countries, which are not covered or blacklisted by own SIM cards, the new shipznet MC 300 prepaid service comes into play.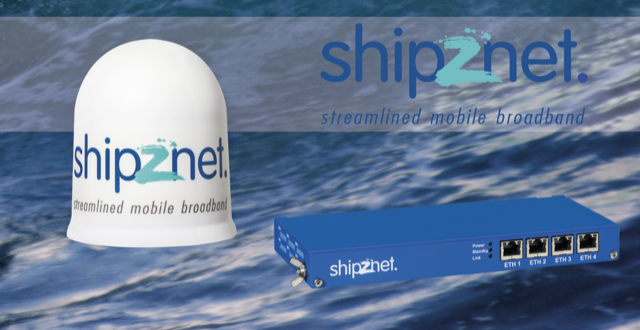 Extremely attractive data packages for countries of your choice set new standards of communication without any contract. If SIM cards are expired, purchase of SIM cards for the current country is difficult, if a SIM is blocked, stolen, lost or when data tariffs are used up, shipznet MC 300 is the first choice. Booking extra data packages in the desired areas according to requirements is absolutely easy. Choose the data volume, the necessary countries and pay per use. With shipznet MC 300 there is no need to seek for local prepaid card providers.
For merchant vessels or mega yachts, which are trading a lot in e.g. Europe or a handful Asian countries and rarely go to other destinations outside of a SIM card's zone, the new shipznet MC 300 solution is especially suitable and 4G near-shore communication becomes flexible and has a very attractive price/performance ratio.
The shipznet support package SP 12 is the ideal add-on to the new shipznet MC 300. Firstly it extends the standard warranty period of one year by another 12 months. Secondly, it includes trouble shooting of quirky SIM cards or problems with operator settings. Further it enables hotspot functionality, free firmware updates and usage of shipznet web services (dashboard, device list, bandwidth monitoring, data usage).
Conclusion:
shipznet MC 300 4G/LTE connectivity comes with active antenna

Insert up to 6 SIM cards for frequently visited countries

Choose any shipznet data packages for short-term, spontaneous use

Let mobile network connectivity problems be solved by our experts

Enjoy the freedom of choice