shipznet RG 300 – Remote Guidance Service Connectivity
Based on shipznet, the first, completely new high-speed mobile broadband service for vessels, the RG 300 remote guidance system offers best in class mobile network coverage combined with power line communication adapters and cables. This system enables service staff to operate far inside the ship while being connected to remote experts and engineers on shore.
New Use Cases
Connectivity helps service people in many cases:
Exchange photos or videos

View technical drawings

Retrieve spare part catalogs

No need to climb back to upper decks to send/receive emails

Instant Video conferencing with qualified personell

Saves a huge amount of time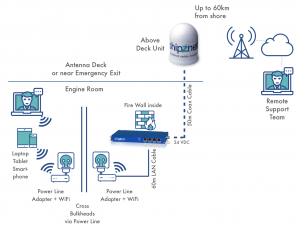 Advantages
Handy sized case

Light-weighted

Intelligent hardware

Installed in just a few minutes

Efficient use on board

More flexibility
Smart combination of shipznet mobile network router and power line adapters let service people quickly work together with remote support even in isolated areas.
shipznet RG 300 provides intelligent components which are easy and quickly installed without any assistance.
This saves time and budget.