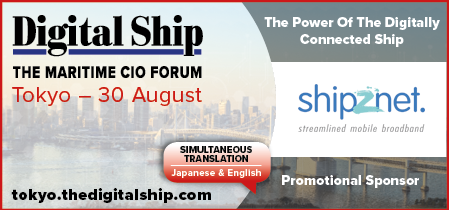 shipznet joins again the international Maritime CIO Forum, this time in Tokyo. Experts from all over the world take the opportunity to debate, network or speak in this unique forum. Headlines are: The Maritime Satcom Summit – Harnessing Maritime Cyber Resilience – The Big Data Revolution.
The technical head and developer of shipznet Mr. Heiko Bobzin is going to use this opportunity to travel to Japan. As one of the managing directors, of bobz GmbH with decades of experience as a developer for modern mobile communication technology, he is a valuable guest in the forum.
The importance of data is frequently reaching higher levels. A fact most people became aware of in the last years, because everything around them became smart. We have smart phones, watches, houses, cars, but what about merchant marine vessels? The industry seems to wake up now and to realize the challenge which has to be taken. Demands for data in the marine communication will increase dramatically in the future and the communication ways to vessels have alway been rare and expensive.
With shipznet the company bobz GmbH provides one way to ensure effective high-speed data connection for merchant marine vessels. We want to establish this way with the latest technical features and as secure as possible for our customers. Meetings like the CIO Forum in Tokyo are important and necessary for the industry, for experts to prepare for the challenge. We are looking forward to Tokyo with excitement, on the 30th of August.
Stay connected your shipznet team